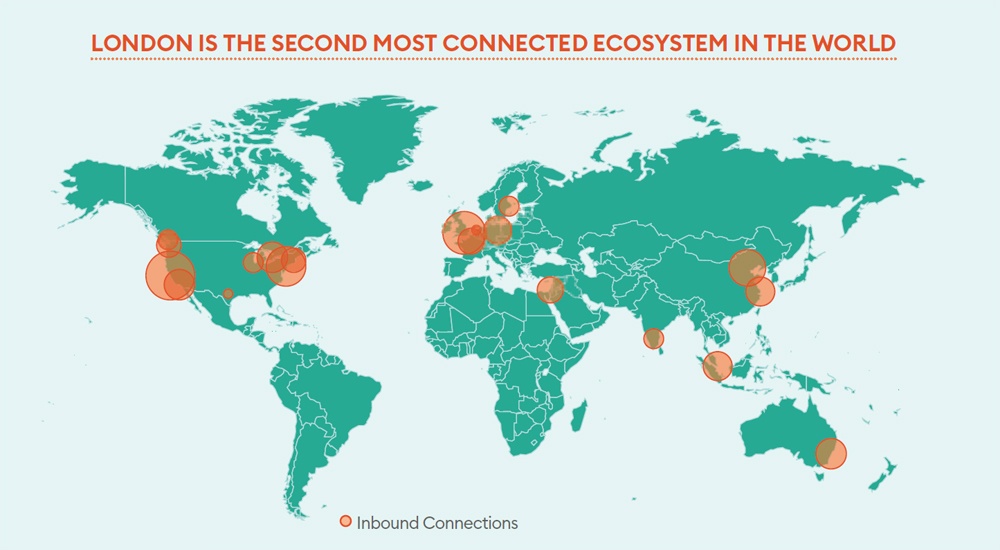 The first part of the report looked at the global competitiveness of the UK. With Brexit, companies are looking globally and not just within Europe. It is therefore encouraging to note that London is in 3rd place as a global tech start-up ecosystem behind Silicon Valley and New York City. We are ahead of other nations in terms of performance, funding and research. However, we trail behind other countries in terms of talent base and this is where local universities and other key digital organisations need to come in and play a vital role in building up the next generation of digitally-skilled workers.

Digital growth has seen not just cities, but suburbs grow rapidly with start-ups finding a home in various tech hubs across the UK. However, it is far from uniformly distributed. There are still a good number of cities in the UK with a very low digital economy and efforts need to be made to create new digital economies in other cities and suburbs across the UK.
Challenges in the tech sector also yielded interesting insight. Challenges experienced in tech clusters are seldom exclusive to their own environment. The Tech Nation report showed that two of the key challenges to the tech sector were not even tech-related but were infrastructure related, impacting economies as a whole. Bad transport links is a key issue in suburb areas as well as limited infrastructure pertaining to network coverage and fibre broadband penetration. Issues like this need to be tackled before we are able to increase the growth of the UK's digital economy. Key strengths that were highlighted in the report were appealing local areas, a helpful tech community and proximity to a university.
Jobs and skills related to the digital economy are also on the rise. There was a 13% increase in employment in tech roles between 2014 and 2017. Tech related jobs also commanded higher salaries, on average, £42,578 compared to £32,477 per year. While all this is positive to the UK economy, it is also important to highlight that tech does not currently offer equal opportunities for all. More effort needs to be put into promoting diversity in this sector, especially in terms of the imbalance between the employment of women and men in tech roles at all levels. Only 19% of the digital tech workforce is female, compared to 49% across all other UK jobs. However, we are positive we are seeing great strides in the sector to create a tech industry that is fair and equal to all.