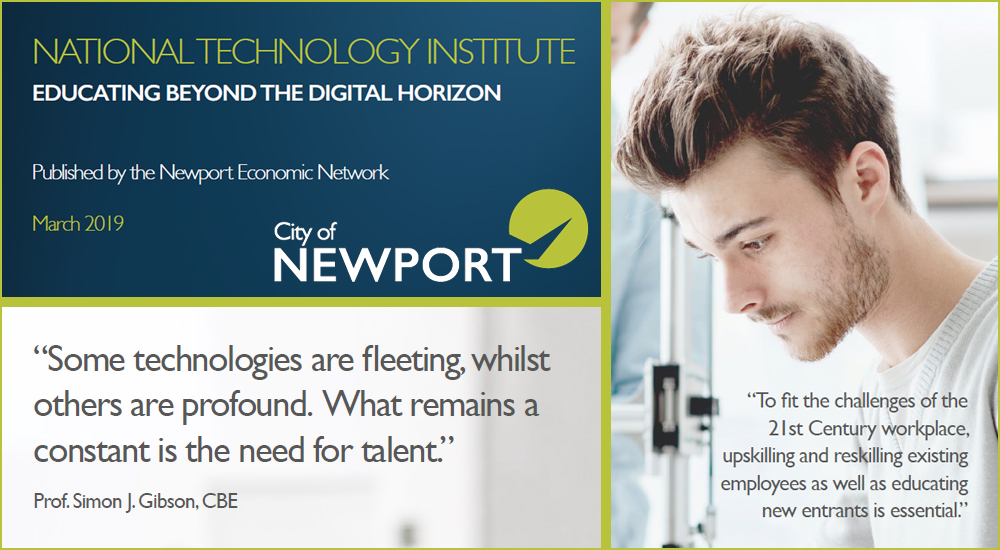 It is well-reported that there aren't enough people with highly technical skills to meet the growing demand of industry. Talent supply remains the number one challenge facing digital tech businesses in the UK with over 50% highlighting a shortage of highly skilled employees.
Many people believe the current university model of learning isn't doing enough to provide Welsh employers with the necessary number of graduates with required hi-tech focused skills. The traditional methods of course delivery are academic rather than applied, and the existing institutions are struggling to satisfy the fast-moving needs of the students or the demands of the technology centric organisations wishing to employ them.
The proposed National Technology Institute (NTI) highlighted in a Newport Economic Network report will be based in Newport and will have an emphasise on innovation, entrepreneurship and commercialisation. It hopes to be smarter, faster, cheaper, more flexible than current HE establishments and provide a new choice for those pursuing a technology career.
What makes the National Technology Institute different?
Offering a blended educational environment with in-classroom and online study as well as workplace learning
Two-year degrees with three terms and significantly shortened holiday periods during the Summer, Easter and Christmas
A curriculum taught by a combination of academic staff and industry fellows
A seamless pathway onto employment from further education
Teaching underpinned by application, efficiency and effectiveness
Ensuring students are ready to work in advanced technological and digital environments from day one of their employment
Employers will be embedded in every aspect of the NTI and will have a vested interest as the NTI will train their current and future workforce
The actual degree programmes have not been decided but here are the proposed areas of study:
Advanced Manufacturing
Animation
Application Development
Artificial Intelligence
Building and Maintaining IT Systems and Networks
Compound Semiconductor Manufacturing
Cybersecurity
Data Engineering
Data Science
Deep Learning
Design Engineering
Design Thinking
Digital Marketing and Sales
Imaging
Industry 4.0
Internet of Things (IoT)
IT Security Operations
Machine Learning
Marketing Research
Multimedia Production
Networking
Product Management
Project Management
Research and Quantitative Data Analysis
Software Engineering
5G and Telematics
Web Development
The National Technology Institute hopes to be the bridge between students and employers reintroducing the concept of student sponsorship by partner companies.
Newport Economic Network chairperson, Professor Simon Gibson, said: "This is about moving the needle significantly and will be focused on fulfilling the chronic shortages in the technology sectors and provide high paid skilled jobs to the economy. It will also be very much about bringing back the concept of industrial sponsors and hi-tech apprenticeship."
He added: "There is a chronic deficit of skills with increasing demand in areas such as software, artificial intelligence, machine learning and big data, which are evolving at pace and at the same time."
Do you think this initiative is a good idea? Will this really help the tech skills shortage in South Wales or will it only benefit those employers that invest their time and money into training these students?
Want to have your say? Get in touch on our LinkedIn page.